Nelikanavaisella 2,4 GHz radiolla varustettu Feilun FT012 tarjoaa huiman RC-veneilykokemuksen kaikille vauhtia etsiville harrastajille.

46 cm mittainen, huipputehokkaalla moottorilla 1800 mAh Litium-polymeeriakulla varustettu kilpavene ei jätä ketään kylmäksi.

Veneen kaksoisrunkorakenne tekee siitä käytännössä uppoamattoman. Lisäksi kaatuessa tämä on mahdollista kipata pakin avulla oikein päin, mikä säästää pilotin monelta turhalta soutuvenereissulta.

Vene toimitetaan heti ajovalmiina pakettina. Sinun tarvitsee vain ladata tämän mukana toimitetettu akku täyteen virtaa, ja asettaa ohjaimeen kuusi AA-alkaliparistoa (paristot ostettava erikseen)

HUOM! veneessä on kosteussensoriin perustuva turvakytkin - tämä ei siis lähde käyntiin ennen kuin tämä asetetaan veteen.

HUOM 2! Vene täytyy asettaa veteen välittömästi sen jälkeen kuin tämän ohjaimeen kytketään virta. Muutoin veneen ja ohjaimen paritus ei onnistu, eikä vene reagoi ohjaimeen.

Edelliset huomioon ottaen takaamme tämän veneen omistalalle huiman hauskoja veneilyhetkiä vesistöille sijoittuvan RC-harrastuksen parissa!

Tuotteeseen liittyvä esittelyvideo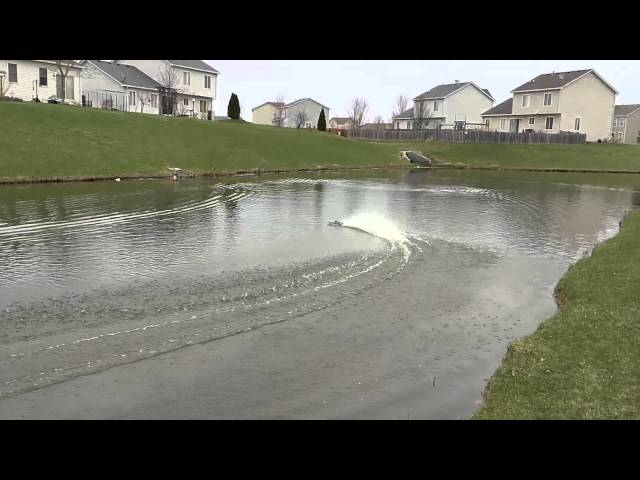 | | |
| --- | --- |
| Tekniset tiedot | No |
| Pakkauksen sisältö | No |
| Testit ja vertailut | No |
| EAN | No |
Reviews
Write Your Own Review
Product Questions
No questions yet. Be the first to ask the question!