Tämä "heavy duty" speksattu kippiauto painaa ajovalmiina yli 3,5 kiloa ja pituutta sillä on peräti 45 cm. Se jaksaa kevyesti kuljetella ympäriinä useamman kilon painoisia soralasteja ja kipata niitä jättömaalle soveliaan paikkaan.

10-kanavaisella radiolla varustettu dumppirekka kulkee komeasti ja tehokkaasti 7,2 Volttisen akun voimin eteen, taakse, oikealle ja vasemmalle. Ja mikä tärkeintä tietenkin muös rekan kippi on täysin radio-ohjaimesta kontrolloitavissa. Kaiken kukkuraksi myös rekan autenttiset ääni-, ja valoefektit ovar RC-ohjaimesta konrolloitavissa.

Kippirekka toimitetaan täysin ajovalmiina pakettina. Maansiirtojen aloittamiseksi sinun on vain ladattava rekan akku mukana toimitettavalla USB-kaapilellia ja asetettava 4 AA-paristoa auton ohjaimeen. Paristot eivät sisälly toimitukseen vaan nämä on ostettava erikseen.

Tuotteeseen liittyvä esittelyvideo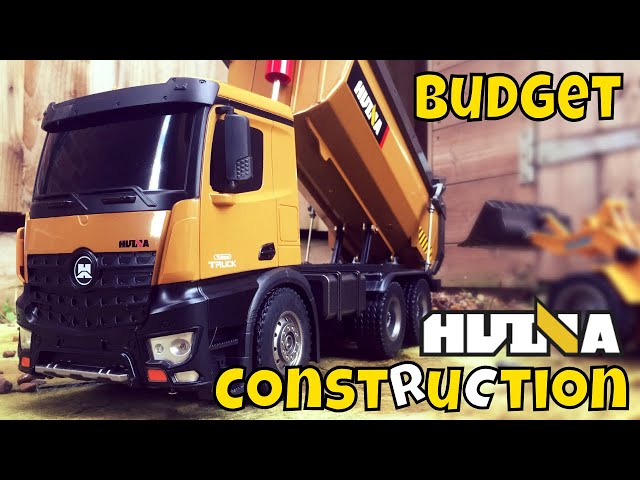 Tekniset tiedot

Mittasuhde: 1:14
Mitat: 45 x 14 x 19 cm (pituus / leveys / korkeus)
Paino: noin 3,7 kg
Kauko-ohjattavat valo-, ja ääniefektit
Materiaali: metalli ja ABS-muovi
Kanavien määrä: 10
Liikkumisohjeet: eteenpäin, taaksepäin, vasempaan ja oikealle, kippilavan nosto ja lasku
Lähettimen toimintataajuus: 2,4 GHz
Akku: 7,2 V 400 mAh NiMh
Leikkiaika yhdellä latauksella jopa 20-25 minuuttia
Latausaika: 4 h

Pakkauksen sisältö

1:14 RC-kippiautoa
2.4GHz Kauko-ohjain
NiMh-akku 7,2 V 400mAh
USB-latauskaapeli akulle
Käyttöohje

Testit ja vertailut
No
EAN
No
Reviews
Write Your Own Review
Product Questions
No questions yet. Be the first to ask the question!