Dronen lennätysominaisuuksiin sisältyvät perusohjauksen lisäksi ultraäänisensoriin perustuva lentokorkeuden lukinta, GPS-signaaliin perustuva lennon vakautus, Seuraa minuta -toiminto, ohjelmoitava multi-point -lennätys, kohteen kiertolennätys, sekä ohjaimen 1600 m kantama (FPV 300 - 800 metriä)
Multikopteri-dronen 5G Wifi antaa mahdllisuuden FPV lennätykseen sääoloista riippuen 300-800 metrin etäisyydeltä. (FPS toiminnallusuus edellyttää Android tai iOs mobiililaitteen, sekä ilmaisen MJX sovelluksen asentamisen mobiililaitteelle.)
Drone on varustettu 2 K resoluution ( 2048x1152 / 20fps ) kameralla. Laajakulmaoptiikalla varustetun kameran kuvauskulma on 110-astetta. Voit myös kääntää kameran kulmaa 90-asteen akselilla sopivan kuvauskulman saavuttamiseksi.
Tehokkaalla harjattomalla moottorilla varustettu drone pärjää ilmassa tuulisellakin säällä. Tämän yhden painikkeen lentoon lähdön ja laskeutumisen ansiosta lennätyksen aloittaminen ja lopettaminen on helppoa myös aloittelijoille.
Multi-point lennätyksen avulla voit valita suoraan matkapuhelimen ruudulta kohteen johon haluat dronen lentävän. Tämä helpottaa lennätystä tikkuohjaimiin tottumattomalle. Seuraa minua -moodin avulla voit asettaa kopterin seuraamaan sinua vaikkapa maastopyörän selässä ilmasta käsin. Tämä tuo kuvaamiseen aivan uusia mahdollisuuksia kun haluat kuvat vaikkapa uusia temppuja ilman mukana olevaa kameramiestä.
Kopterin ultraäänisensori ja sisäänrakennettu GPs takaavat kopterin turvallisen lennätyksen. Sijiaintiin ja korkeuteen perustuvan lukon ansiosta se ei pääse katoamaan esimerkiksi tuulen mukana. Ja mikäli yhteys kopterin ja ohjaimen välillä syystä tai toisesta katkeaa, kopteri palaa automaattisesti lähtöpisteeseen.
Toimitus sisältää MJX Bugs B4W dronen, kauko-ohjaimen, 7,6 V / 3400mAh akun, sekä akun USB-latauskaapelin. Kauko-ohjain tarvitsee lisäksi 2 AA-alkaliparistoa, jotka on ostettava erikseen. Kopteriin voidaan myös asentaa maksimissaan 32 Gt MicroD -muistikortti videoiden tallennusta varten. Kortin nopeuden on oltava vähintään Class10 tasoa, muuten videon tallennus ei ole mahdollista.

Tuotteeseen liittyvä esittelyvideo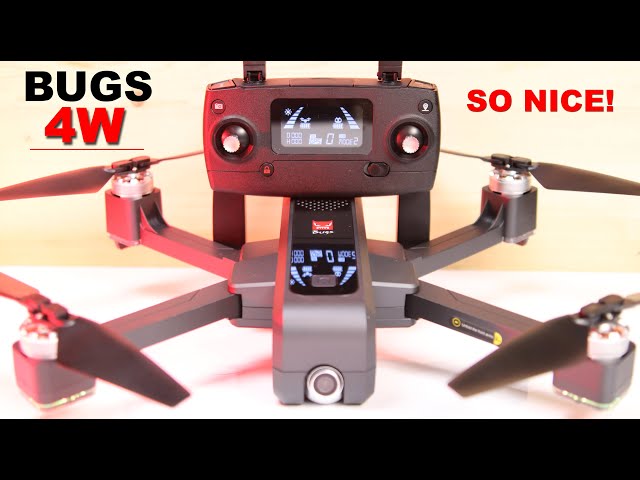 Tekniset tiedot

Lennätys eteen, taakse, oikealle, vasemmallle, ylös, alas
Ultraäänisensoriin perustuva vakiokorkauden säilytys
GPS
5G Wifi
Yhden painikkeen lentoonlähtö / laskeutuminen
Seuraa minua -toiminto
2 K videokamera ( 2048x1152 / 20fps )
Ohjaimen kantama 1600 metriä (FPS puhelinmallista riippuen 300 - 800 metriä)
FPS lennätys ilmaisen MJX sovelluksen ja matkapuhelimen avulla
Kameran kuvauskulman säätö 90-asteen kulmassa
Ultraäänisensoriin, kameraan ja GPS signaaliin perusuva älykäs lennonvakautus
Automaattinen aloituspaikkaan palaamistoiminto jos yhteys ohjaaimeen häiriintyy
Seuraa minua -toiminto
Ohjaus joko mukana toimitetulla kauko-ohjaimella tai vaihtoehtoisesti MJX mobiilisovelluksella
Ohjaimen radiotaajuus 2,4 GHz + 5G Wifi FPV videota varten
Maksimi lentonopeus 40 km / h
Käyttölämpötila 0 - 40 °C (ei toimi luotettavasti pakkassäällä)
Lennätysaika noin 20 minuutta täydellä akulla
Akku 7,6V / 3400mAh
Kauko-ohjain saa virran 2 AA-paristosta (ostettava erikseen)
Kokoontaittuva muotoilu
Mitat kokoontaitettuna: 19,5 x 11,5 x 7 cm
Mitat lennätyskunnossa 45,2 x 41,5 x 7 cm
Kopterin paino: noin 640 grammaa
Soveltuu yli 14 vuotiaille lennättäjille

Pakkauksen sisältö

1 x MJX B4W Drone
1 x Kauko-ohjain
1 x Ladattava akku
1 x USB latauskaapeli
4 x Varasiiveke
1 x Käyttöohje

Testit ja vertailut
No
EAN
No
Reviews
Write Your Own Review
Product Questions
No questions yet. Be the first to ask the question!