Pikavene FT009 antaa sellaista kyytiä RC-veneilijälle että oksat pois! Huippunopea, vesijäähdytteinen jahti on varustettu 2,4 GHz radiolla, joka takaa noin 100 metrin kantaman sekä tarkan ohjauksen.
Pikaveneen riittoisa 7,4V 1500 mAh litium-akku yhdessä tehokkaan moottorin kanssa vauhdittavat tämän jopa 30 km/h vauhtiin vetten päällä.
Jos et muuten usko että tästä pelistä löytyy pippuria, niin katso veneen oheinen esittelyvideo!
HUOM! veneen roottori pyörii vasta kun se asetetaan veteen. Tämä ei siis ole rikki vaikka minään ei tapahdu kun venettä kokeillaan "kuivalla maalla". Kaikki radio-ohjattavat veneet vaativat myös huoltoa. Muista siis öljytä veneen akseli sekä laakerit joka ajon jälkeen etteivät nämä pääse ruostumaan. Öljyäminen on erityisen tärkeää mikäli veneillä ajetaan suolaisessa veneessä!

Tuotteeseen liittyvä esittelyvideo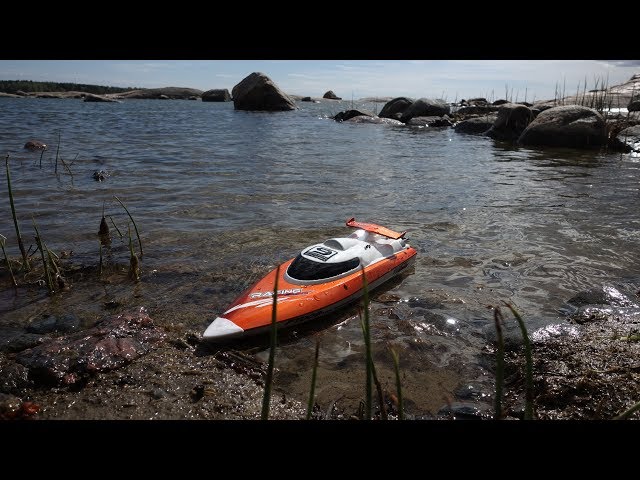 Tekniset tiedot

Radio-ohjaksen taajuus: 2,4 GHz, 4 kanavaa
Akku: 7,4 V / 1500 mAh
Kauko-ohjain tarvitsee 6 AA-paristoa (ostettava erikseen)
Akun latausaika noin 4 tuntia
Ajoaika yhdellä latauksella noin 6 minuuttia
Huippunopeus noin 30 km/h
kauko-ohjauksen kantama: noin 100 metriä
Ohjaus eteen, taakse, oikealle ja vasemmalle
Rattimallinen kauko-ohjain
Mitat: 46 x 12,5 x 11,8 cm

Pakkauksen sisältö

FT009 RC pikavene
Kauko-ohjain
7,4V 1500mAh Akku
USB-latauskaapeli
Teline veneen säilytystä tai esillelaittoa varten

Testit ja vertailut
No
EAN
No
Reviews
Write Your Own Review
Product Questions
No questions yet. Be the first to ask the question!